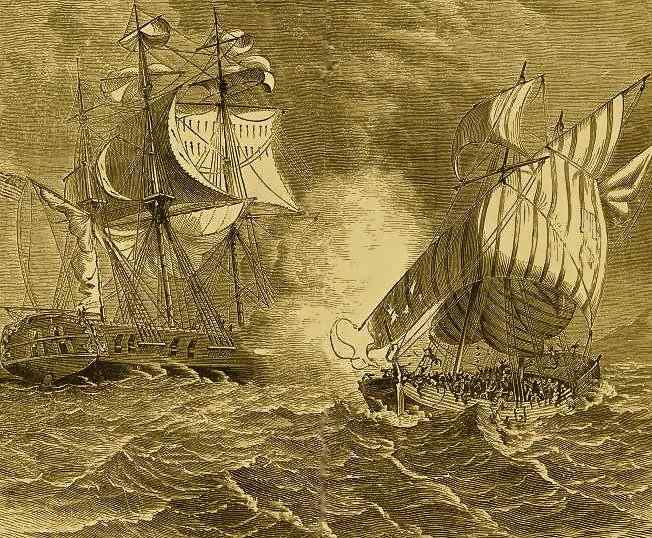 vessels from the colonies, and France had done so during the American Revolution.

By the time the United States gained its independence in the late 1700s, the Barbary States had come to regard the Mediterranean as their own private lake. It was a shock to the newly independent United States when one day in 1785 an American ship was seized and its crew jailed by a pirate ship in the employ of Algiers.

The Barbary Pirates became the incentive for the newly created United States to establish a navy in 1794. One of the six frigates built was the USS Constitution, which is still in service today and puts to sea upon occasion.

After ten years time and a hefty ransom of one million to recover some of the poor souls taken captive, with all attempts at diplomacy rejected, the United States refused to pay further extravagant tribute. As a result, Yusuf Karamanli, the Pasha of Tripoli, declared war on the US on May 10, 1801. To make his point, Yusuf had his soldiers chop down the flagpole in front of the American consulate, which meant war.

Seven U.S. warships were sent to the Mediterranean and through 1803 the U.S. maintained a blockade of the Barbary ports and attacked Barbary pirate ships. A turning point in the war came in 1805, at the Battle of Derna, by a combined force of United States Marines and Arab, Greek and Berber mercenaries. The Marines wore leather around their necks as protection from sabers, leaving them with the name leathernecks.
On June 10, 1805, Tripoli's pasha signed a treaty ending hostilities with the United States.

In 1815, a Second Barbary War was waged against Tripoli, Tunis, and Algeria known collectively as the Barbary states, after the Pasha of Algiers had resumed attacks on American vessels and the seizure of American sailors. The U.S. therefore responded by sending a naval fleet back into the Mediterranean. The fleet, under the command of Steven Decatur, captured several Algerian ships and forced the Pasha to sign a treaty agreeing to return all captives and to cease attack on American shipping. This marked the end of the Barbary domination of the Mediterranean Sea.